I was honored to be able to interview the talented Cristie of
myPhoneography
! She posts up photos that she takes with her iPhone and I am always so amazed by what beautiful art she turns out!
1. Your photography with your little iPhone is just so wonderful! How long have you been a photographer? What made you get into it in the first place?
Oh, a photographer, thank you! I wouldn't call myself that, but in this instance, I'll take it. I've always been arty I suppose. I dabbled with photography in high school, and really enjoyed it. I've had digital cameras here and there but always forgot to bring them along when traveling or out and about. I bought my iPhone last summer, and it took me a few weeks to realize I should start taking pictures with it. Once I started I couldn't stop. It then took me another few weeks to figure out I should start a blog. I have re-discovered photography as a hobby, and it's exciting. I have a polaroid, Diana camera and now want to resurrect my Pentax from high school. I like the idea of experimenting with film again. I have two rolls from my Diana that are being developed right now and if all goes well, I will share them. Fun fact: My first roll from my Diana produced one image. I had it on the wrong setting, oops.
2. What makes something stand out to you as a potential artistic photo? Shapes? Colors?
Almost always color first, then subject matter. Light is an afterthought but obviously very important. I rarely stop for a shot because of the lighting, but I'm sure that is something I need to keep my eye out for!

3. What other artists/photographers do you find inspirational and why?
So many! A few are:

My Polaroid Blog. She has an eye for seeing something special in a regular subject, and somehow translates that into her images. Polaroids to boot! She also has the best composition. So unique.

I love the photography of Concrete and Honey. She knows what she likes, and there is a distinct look to her subject matter. Her images are very airy and light and clean. Just pretty.

I worked with Melissa O'Hearn for a shoot with my company. It was great to see firsthand how she works with natural light. She's like the sun whisperer. Her images are very romantic.

4. You seem to have a weakness (and a whole other blog devoted to it!) for sweets. What were your favorite treats growing up? What are your favorites now?
It's true! There wasn't much candy in the house when I was growing up, so maybe this is where it stems from. It was recently pointed out to me that I tend to like "dusty" sweets. For instance I've always loved Neccos/Candy Hearts, cotton candy, and Jordan Almonds. All very dry, and some of them in fact covered in candy dust. The latter was my favorite movie candy growing up, but Jordan Almonds are not so easy to find at the movies these days.
Now I love cupcakes like crazy. I'm also very loyal to my cupcake house, shout out to Trophy Cupcakes! Second to this, and in fact a nice compliment, is hot chocolate. In the summer, I have a weakness for gelato in floral flavors, Lavender and Rose.
I have a forever weakness for Baskin Robbins Mint Chocolate Chip ice cream. The best mint in the biz. Some would disagree, to them I say pbbbbt!
5. Describe your ideal morning/evening/day.
Sleeping in with no alarm. I really prefer to have breakfast, so brunch would be in order. Chocolate croissant perhaps... I don't like to rush, so the days events would be leisurely. Walking around taking pictures, a little window shopping. At some point an unsolicited foot rub would be offered and accepted, and my dog would snuggle up with me on her own accord. Then a delicious dinner, something I would find in a Parisian bistro (I can dream!). Cocktails plus a whimsical movie would finish off the evening. I'm a night owl so no early bedtime for me :)
6. What is some advice you'd give other people on how to take memorable photos with their phones/cameras?

I'm definitely not an expert! These are a few things I try to remember as I take my photographs.

1) With an iphone, the light adjusts a couple of times through the viewfinder, so if you have the luxury of time, let it sit for about 6-8 seconds. The light becomes more natural and not so yellow.

2) I almost always take my shots on an angle. It offers a little more direction, but as always, don't get stuck in that. If you've been doing alot of angle shots, try straight on, or off center.

3) Change your level. Get low, even with your subject. Or maybe an aerial view. Switch it up and experiment. Walk around the subject if you can, and try different views. You can always delete the bad ones!

7. What picture makes you the happiest? Why?

First instinct is to say anything with my dog, but I will refrain. I am also unable to pick just one, so I chose three.

1) For the dogs - It turned out how I imagined it, so that's always a treat. I had to cut off the Tiffany name to get the dog bowl in, and I think it works out better that way. Everyone knows what that says! The splash of Tiffany blue is just enough color.

2) Swantina - I know it's not a swan, but that's her name in my imagination. I walked by her quite a bit, and then it dawned on me I should get a shot. It's very wistful. I love the color combination, and that the white has some interest as well and isn't flat. The next time I walked by she had been removed from the window, so I'm glad I snapped it.

3) Dirty Laundry - I walked by this laundromat and it was empty, pristine and such lovely colors. Again, the shot turned out as I hoped - yay - and I think the cheeriness translates.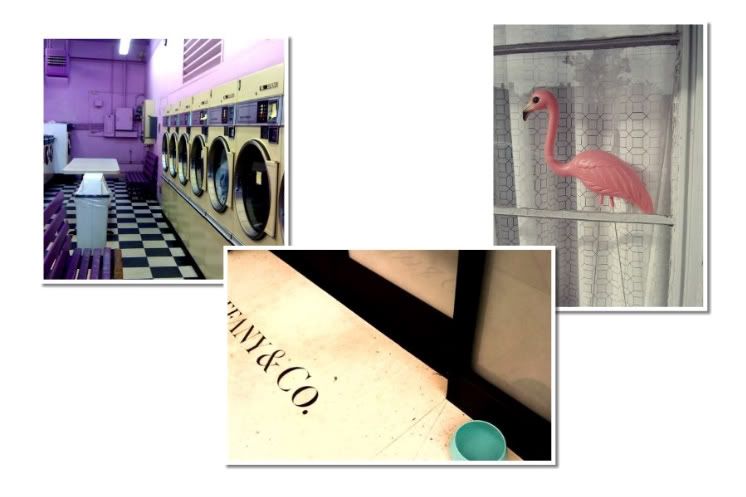 P.S. Feel free to
follow me
! I promise only ever to lead you to bright, sunny places!